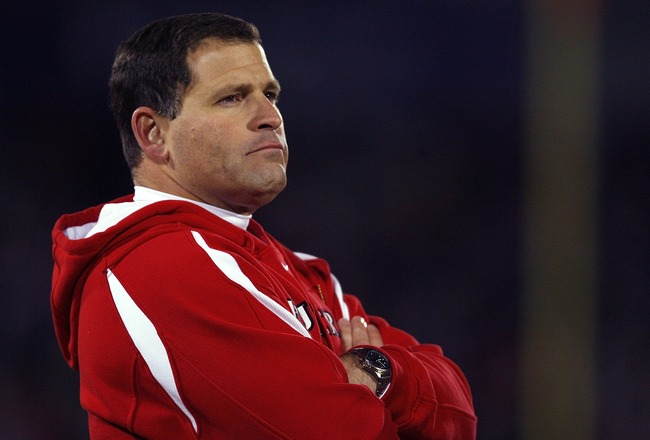 By: Justin Pawlowski
On the day that Raheem Morris was fired and the search for the next Buccaneers head coach commenced, I said on the radio that the Buccaneers had to address three major areas with their next head coach.  The team needed discipline.  The team needed structure.  The team needed a direction.  They accomplished all three with the hiring of Rutgers head coach Greg Schiano as their own today.
With my work on the USF Bulls radio broadcasts, I've had a chance to follow what Greg Schiano has done with the Rutgers program.  Unfortunately, most fans are so naive to look at his total record with the program, but they forget to take into account how bad the Rutgers program was before Schiano got there.  This was a Rutgers program that struggled to win one or two games a season.  Schiano not only turned Rutgers into a contender in the Big East, but also developed some excellent NFL talent while he was there.
Schiano's intensity and energy will also resonate throughout One Buc Place.  Yes, Raheem Morris had energy, but while Raheem's energy was more "rah rah," Schiano's energy is genuine and comes with an idea that he's going to kick someone's ass.  He's aggressive and commands a presence.
When was the last time a Buccaneers coach commanded anything?
The Glazers and Mark Dominik did the wise thing, took their time in the interview process, and hired the guy they thought was one of the best leaders out there.  In some ways, Greg Schiano and Chip Kelly are alike.  Both are leaders and both are aggressive.  The Buccaneers interviewed a lot of people and decided that this was the way to go, and I applaud them for that.
"We liked his leadership, structure, and his organization," Buccaneers GM Mark Dominik said.
This was not about an "offensive" or "defensive" minded coach taking over the Tampa Bay Buccaneers.  This was about somebody taking over an organization that was completely out of control and giving it a new direction and a new hope.  This was about hiring a coach that the players could respect, a coach that could bring structure to an unstable locker room, and a coach that the players could follow knowing he had a firm understanding of where he was going.
Greg Schiano has more to work with than people realize.  Stop blaming a lack of talent for the demise of Raheem Morris and the Bucs, and start blaming the lack of development by said coach.  As mentioned above, Schiano has developed some damn good NFL talent to come out of Rutgers.  He'll have an offensive and defensive line already in place, a quarterback with a lot of raw ability, and millions of dollars that NEED to be spent over the next two off-seasons.  When you add those to the continued drafting by the Buccaneers front office, which I think does a good job, Schiano will have plenty to work with.
As for those millions of dollars that need to be spent over the next two off-seasons, there might be some names to keep an eye out for in free agency this year.
With the Bucs struggling at linebacker this past season, keep an eye on Jonathon Vilma to be released from the Saints.  Vilma is scheduled to make over $5m each of the next two seasons, which might lead to his release.  Schiano coached Vilma while the defensive coordinator for the Miami Hurricanes in 2000.
Another name to keep an eye on is unrestricted free agent RB Ray Rice.  As the Ravens most productive offensive player, it would be unlikely for Rice to change teams.  The Ravens also have the opportunity to place the franchise tag on him.  However, teams are somewhat tentative of giving mega-deals to running backs and/or placing the franchise tag on them because of the life span of running backs.  If Rice were to go anywhere, he might want to reunite with a coach that made him great while at Rutgers.
Having the defensive backfield in his history, there are also a few defensive backs that come to mind that Greg Schiano might want to bolster the back end of the Bucs defense.  Current Titans CB Courtland Finnegan and S Michael Griffen are both tough, physical, and fit the "Schiano" mold.  One of these players could receive the franchise tag, but both won't and the Buccaneers have needs at both positions.
In the draft, keep an eye on Rutgers standout wide receiver Muhamed Sanu in the 2nd round.  Sanu is an outstanding all-around wide receiver who was a majority of the Rutgers offense the past few seasons.  Sanu excelled despite having true freshman quarterbacks throwing to him the past three seasons.  Sanu is not a burner, but he is a big-time threat and amazing at tracking the ball in the air.
The shockwave has been sent through the Buccaneers locker room.  With all the additions that could be made, there are also numerous players that could be on the way out.  Aqib Talib might have played his last game in a Buccaneers uniform.  Ronde Barber is contemplating retirement.  Kellen Winslow drew a lot of criticism this year, but his connection to Schiano through Miami might help.  Legarrette Blount's days of showing up late for meetings and lack of intelligence are over.
It's a new day for this franchise, and these players better be ready for it.  They failed to play for the coach that allowed them to get away with everything, and now they have to pay the consequences.
For the fans, that's a very good thing.