By: Chris Dommermuth
Rays OF Sam Fuld will have surgery on his right wrist Tuesday morning, and is scheduled to be out 4-5 months. Fuld was examined by Dr. Tom Graham at the Cleveland Clinic Monday and decided surgrery was the best avenue to take.
Fuld injured the wrist last season, mid-September, when he swung and missed against the Orioles. He managed just 1at bat the rest of the season.
"It was never great this spring. I was hoping it would be something that I could tolerate and be productive with it. At no point was it out of my mind." -Sam Fuld
Fuld passed on surgery, hoping rest and rehabilitation would heal the injury properly. He cut-back the amount of swings he took during batting practice, but still re-injured the wrist this Spring when he swung and missed a pitch against the Blue Jays.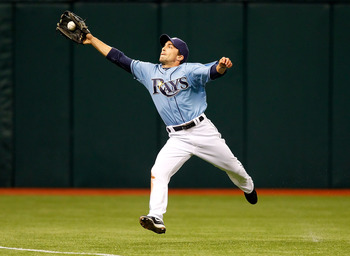 "Here's a guy who was going to be on the team again, possibly a more beefier role in a sense, a more secure role, let me put it that way, where he knows he's going to be on the team. He's a big part of what we're doing. It's unfortunate, because he fits so well. But it's not the end. He'll be back. A bigger and better version of Sam Fuld coming back, if that's possible." – Rays Manager, Joe Maddon
Fuld's role with the Rays was going to be the 4th OF. With CF B.J. Upton sting the season on the DL, Fuld was a sneaky early pick for steals. I wouldn't bank on Fuld making any impact this season, even if he ddoes retuurn in 4 months.