By: Chris Dommermuth
When we talk about how unreliable closers can be and how a closer can go from great to below-average in just one season, it's hard to explain. All I know is closers are going down to injury at an alarming rate, not to mention the ones who become ineffective over night.
Some of the top closers have been dropping like flies. Mariano Rivera went down ealier in the week with a torn ACL in a freak injury. Andrew Bailey, Kyle Farnsworth, Brian Wilson, Drew Storen, Ryan Madsen, Joakim Soria, and Sergio Santos have all gone done to injury since Spring Training. While Jordan Walden, Heath Bell, Hector Santiago, and Kevin Gregg have all either been replaced or are close to losing their starting job if things don't turn around immediately.
It's hard to guage what a closer will do, but if you have a solid group of them, they can help your ERA and WHIP substantially. But that's only if you have top guys that put up the right numbers. That's why many people believe you don't "Pay for Saves." I believe you do pay for saves, so that you can get the most reliable closers possible. It's easier to play Russian Roulette with a starting pitching staff then it is to find a decent group of closers.
Carlos Marmol is the latest closer to lose his job due to ineffectiveness. Marmol's last save appearance, he allowed 3 runs without even recording an out. In fact, he has allowed at least 1 base-runner in 9 of his 12 appearances and currently holds a ballooned 6.23 ERA and 2.31 WHIP.
"Who knows if it's mechanics or mental. His side sessions are good, but the game speeds up a little, the adrenaline gets pumping and things break down a little bit. That's why as much as anything we have to make him a productive pitcher, whatever role it is for us to get an inning here, two innings there."
Just two years ago Marmol was the Craig Kimbrel of baseball. While saving 38 games, he struck 138 batters out in just 77.2 innings. Even during his last season's struggles, he still struck 99 batters out in 74 innings.
What has been the problem and how does he solve it?
Cubs manager Dale Svuem has told Marmol he needs to work on his pitch selection. Apparently Svuem told Marmol he needs to start throwing more fastballs and less sliders. Marmol seems to not trust his fastball and goes to the slider (the same one that got all those strikeouts) in every sticky situation. He needs to mix the slider in, instead using it as his main pitch. Unless your Mariano Rivera, all your pitchs should be playing off of your fastball. That's where the deception comes in.
"I completely understand where Carlos is coming from because he's had a lot of success throwing that slider," Sveum said of Marmol's stubborn reliance on a now unreliable pitch. "But we had to make him understand, as a big-league pitcher, you have to throw the ball down the middle sometimes with a three-run lead and see what happens. Carlos still falls back on those situations where he was so successful.
Svuem will use a "closer by committee" approach for now between left-hander James Russell and right-hander Rafael Dolis.
Dolis is not your prototypical closer because he doesn't strike many batters out. He has been effective in his young career, and has closed before in the minors so I see him having the upper-hand.
Russell, the son of former reliever Jeff Russell, has the stuff to be a major league closer, but suffers from inconsistencies of his own. He has a 1.08 ERA in  appearances this season.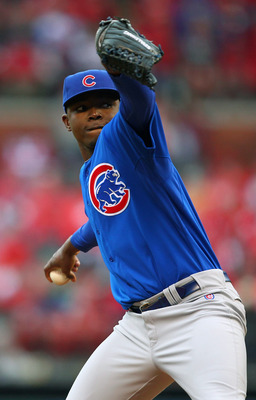 A dark-horse for this, is Kerry Wood, who is returning from injury next week and will be eased back. If the closer situation hasn't bee solved by the time Wood comes back, he may be the right choice to close for the Cubs again.
If I were to choose who will be closing in one month, I would lean towards Marmol. He's paid a too much money for the Cubs not to use him in that role. The Cubs will give him every chance to regain the role. I think taking a step-back and letting him work through his struggles is the right move.
"I told Carlos to be ready to pitch anytime," Sveum said. "We have to get him productive to get to that role again."
Pick up Dolis only if you desperately need a closer. I don't see Russell as much of an option at this point.