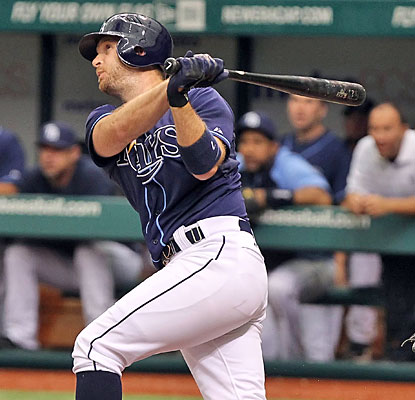 By: Chris Dommermuth
Tampa Bay Rays super utility infielder Jeff Keppinger has been placed on the 15-day DL due to a broken right toe.
The Rays just can't catch a brake this year. They not only have key infielders getting hurt on the field, but now their getting hurt while being in the dugout. The injury happened on Saturday against the Braves while Keppinger was sitting in the dugout and Martin Prado hit a foul ball that struck Keppinger in the foot.
To fill Keppinger's spot on the roster, the Rays acquired  infielder Drew Sutton from the Pirates Monday for cash considerations and designated John Gaub for assignment to make room on the 40-man roster.
Keppinger was hitting .295 with 2 home runs, and 8 RBI's in 29 games this season, even batting clean-up a handful of times.